Bin Bots are cool, collectible creatures for your Bin Weevils' to get. You can get them from the Bin Bots Claw Machine and mix potions to get them from the Bin Bots Maker, both machines found at Lab's Lab. Also, you can get them from Tink's Blocks, a mobile/tablet app game you can buy and download onto your device, where you can collect Bin Bots from there.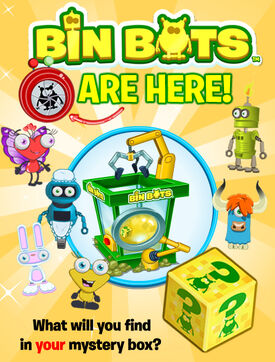 Bin Bots List
Edit
Ad blocker interference detected!
Wikia is a free-to-use site that makes money from advertising. We have a modified experience for viewers using ad blockers

Wikia is not accessible if you've made further modifications. Remove the custom ad blocker rule(s) and the page will load as expected.