Bin Pet For A Day



First added:

Late January 2014

First announced:

January 17th, 2014

Event for:

Non-members

Type of event:

Bin Pet Month
Bin Pet For A Day is a special event which was announced in a Bin Weevils Blog on January 17, 2014 and started in late January 2014.
Bin Pet For a Day is a special event. Non-members can get a Bin Pet for a day to see how it would be like to have one. However, non-members couldn't change the color or name of the bin pet. They could only choose the available Bin Pets.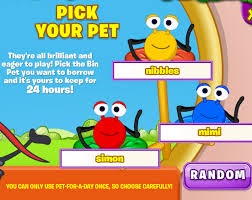 Non-members could keep their own unique Bin Pet for a day, and unfortunately, once. Non-members could train their Bin Pet whenever. However, when a day (24 hours) passes by, then your Bin Pet is automatically gone.
Ad blocker interference detected!
Wikia is a free-to-use site that makes money from advertising. We have a modified experience for viewers using ad blockers

Wikia is not accessible if you've made further modifications. Remove the custom ad blocker rule(s) and the page will load as expected.