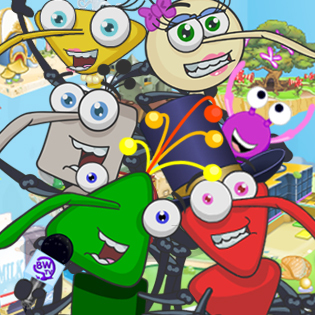 Here is a list of characters from Bin Weevils.
Families/Characters
Edit
Tab Family: Lab, Nab, Tab, Fab, Gab, Dab
Tum Family: Rum, Tum, Slum, Sum, Fum, Glum
Rott Family: Rott, Clott, Blott, Jott, Dott, Gott
Dosh Family: Dosh, Posh, Slosh, Bosh, Gosh, Kosh
Gam Family: Gam, Slam, Flam, Ram, Ham, Jam
Bing Family: Fling, Zing, Bing, Bling, Thing, Sling
Rigg Family: Rigg, Figg, Digg, Twigg, Trigg, Wigg
Gong Family: Gong, Bongo, Song, Pong, Kong Fu, Tong
Ink Family: Tink, Fink, Ink, Pink, Sink, Wink
Flem Family: Flem, Hem, Blem, Gem, Kem, Mem
Punt Family: Punt, Runt, Bunty, Grunt, Hunt, Stunt
WEB Family: Thugg, Octeelia, Weevil X, Lia
Kip Family: Kip, Zip, Ship, Sip, Dip, Flip
Other Characters: Nest Inspector, The Recluse, Castle Guard, Colin the Dragon, Garden Inspector, Big Weevil, Snappy, Lady Wawa, Scribbles, Monty, Mudd, Glamm
Ad blocker interference detected!
Wikia is a free-to-use site that makes money from advertising. We have a modified experience for viewers using ad blockers

Wikia is not accessible if you've made further modifications. Remove the custom ad blocker rule(s) and the page will load as expected.